April, 2022
I am very honored to have been selected as one of the recipients of New Music Creator Development Fund 2022-2023 from New Music USA for my project, Han & Heung. More details coming soon!
Looking forward to presenting "Enhancing Fluency in Music Literacy" at the 76th annual Midwest Clinic in Chicago this December with Simon Holoweiko!
January, 2022
Looking forward to a special concerto appearance at the Daejeon Cosmopolitan Music Festival in August, 2022!
October, 2021
Looking forward to joining the fabulous artist faculty at Aria International Summer Academy in person in June!
May, 2021
I am very excited to launch the Louisiana Clarinet Initiative to serve the greater community of pre-college clarinetists and band directors in the state of Louisiana.
August, 2020
Check out the panel discussion series I've hosted during the pandemic as part of my Silver Linings Initiative!
February, 2020
I will join the esteemed faculty at Louisiana State University's School of Music in Baton Rouge as Associate Professor of Clarinet starting Fall of 2020! I look forward to working with talented undergraduate and graduate clarinet students at LSU!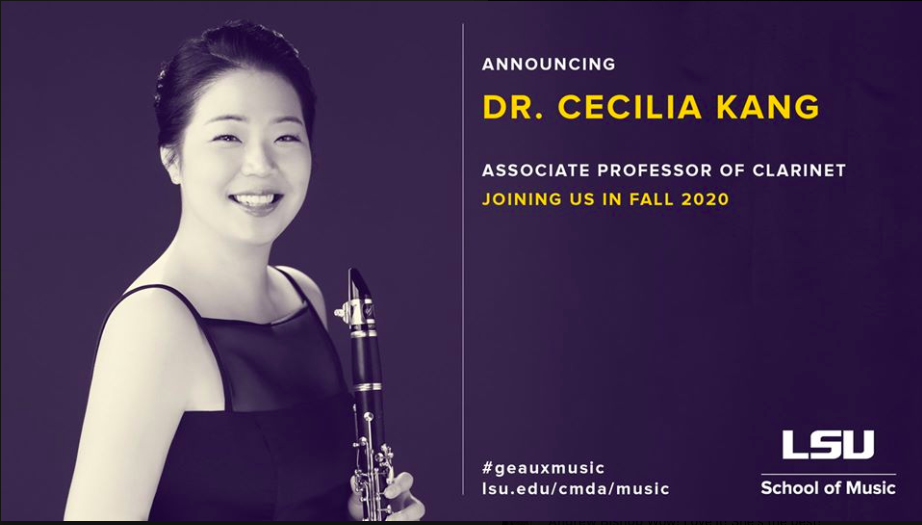 December, 2019
Just had an enlightening few months in Italy, co-leading the Furman University Music Department's annual study away program in Arezzo as well as completing an inspiring professional residencies meeting master Italian clarinetists in Pesaro, Venice, Florence, Milan, Rome and Lugano!
October, 2019
Thrilled to announce I will be joining the esteemed faculty at California Orchestra Institute led under the direction of Maestro Larry Livingston this summer!
June, 2019
Looking forward to joining the Thailand International Clarinet Academy faculty artists this October in Thailand!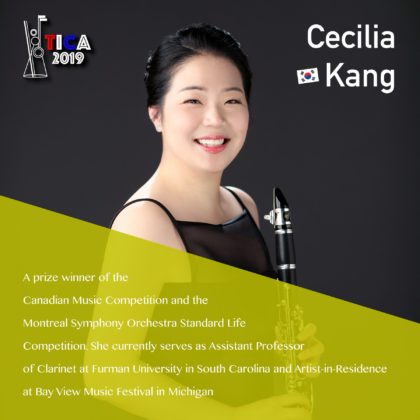 May, 2019
Just came back from a fun Asia tour of concerts, lectures, and master classes at Kyung Hee University, Yonsei University and the Seoul Arts Center in South Korea, Tunghai University, Tainan National University of the Arts and National Taiwan University of Arts in Taiwan.
February, 2019
I am looking forward to returning to Bay View Music Festival this summer in beautiful Michigan as Artist-In-Residence!
December, 2018
I am very honored to give a US premiere of Heera Kim's PAR VI for Two Clarinets & Electronics at the 2019 ClarinetFest with clarinetist Gi-Hyun Sunwoo! The Furman University Clarinet Ensemble will also present a program of wonderful works by Japanese composers.
November, 2018
I am very honored to be featured on Eumakchunchu, a renowned South Korean Classical Music Magazine!
August, 2018
Check out my score review of the Brahms' Clarinet Sonatas Op.120 published by Bärenreiter-Verlag Urtext.
Kang, C. (n.d.). Johannes Brahms, Sonatas in F minor and E-flat major for Clarinet and Piano, op. 120, edited by Clive Brown and Neal Peres Da Costa Bärenreiter-Verlag Urtext (Kassel: Bärenreiter, 2015). Nineteenth-Century Music Review, 1-2. doi:10.1017/S1479409818000149
June, 2018
Ananta Duo Debut Album: Global Tapestry has been released on Soundset Record Label! It's also available on Itunes and Spotify!
January, 2018
Happy to announce Ananta Duo's concert tour has been finalized in Michigan, Louisiana, South Carolina and Texas this spring! Stay tuned for details on my Calendar!
December, 2017
Looking forward to adjudicating, performing and giving master classes in Hong Kong and South Korea this month! I am also honored to present at the Midwest Clinic later this month!
February, 2017
I enjoyed presenting at the South Carolina Music Educator Conference in collaboration with the talents clarinet section of the Spring Valley High School!
July, 2016
Had a wonderful time performing and adjudicating the High School Solo Competition at International Clarinet Association's 2016 ClarinetFest!
September, 2015
I am honored to join the esteemed team of Buffet Group USA Artists! I look forward to great collaborations with the Buffet Group!
August, 2015
I am very excited to join the esteemed faculty at Furman University! Learn more about Furman Clarinet Studio!
July, 2015
I just returned from my summer tour of concerts and master classes at Shen Yang Conservatory of Music (China), Shanghai Conservatory of Music (China), Jeonju University (South Korea), the University of Toronto (Canada) and the University of Western Ontario (Canada)!
January, 2015
I will be teaching at Bay View Music Festival in Michigan this summer!
November, 2014
I am delighted to announce that I am signing on as a Vandoren Artist! Looking forward to many wonderful collaborations with DANSR!
August, 2014
I just came back from the 2014 ClarinetFest, where I had the privilege of giving a lecture and serving on the judging committees for the High School Solo Competition and the ICA Research Competition.
January, 2014
I am excited to announce the upcoming release of of Mary Simoni's Arme Arirang on iTunes and Spotify featuring yours truly!